By Craig Andresen on July 22, 2014 at 5:55 am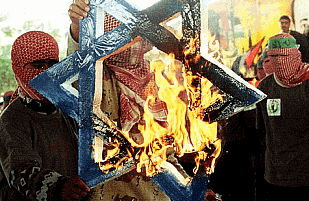 Hamas' charter, Article 7, calls directly for the killing of all Jews on a global scale and, in Article 15, the Hamas charter directly calls for the destruction of Israel.
Both the United States and the European Union recognize Hamas as a terror organization.
Last month, in June of 2014, Hamas and the 'Palestinian' Authority entered into a "unity agreement" meaning that the Palestinian Authority is now the defacto "government' of the terrorist organization, Hamas.
The "unity agreement" was carefully crafted to barely meet certain requirements that will ensure continued financial support from…the United States and among those requirements are that the PA continue to recognize the state of Israel, renounce violence and honor past agreements with Israel.
As those criteria are diametrically opposed to the charter of Hamas…the "promises" briefly outlined above…are not worth the toilet paper upon which they have been written.
Need proof?
Hamas has launched more than 1700 rockets into Israel from Gaza and the West Bank.
Hamas has NOT altered their charter ONE BIT to remove the calls for the murder of Jews or the destruction of Israel…