By Craig Andresen on August 11, 2014 at 8:29 pm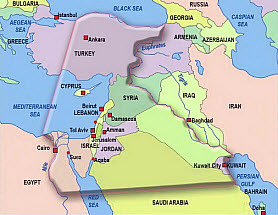 The fact of the matter is clear, the political landscape regarding the current and protracted situation between Israel and the "Palestinians" is greatly different than the biblical landscape, set forth in Genesis, where it comes to the borders OF Israel.
"From the Nile river (which is mainly modern Egypt and Sudan) to the Euphrates (modern-day Iraq)."
Since its inception in 1948, Israel has never been in the business of conquering other nations, never insisted on the biblical borders and instead, only wanted to live in peace. A peace often interrupted by the hatred for the Jews by other surrounding entities but Israel, having never let down her guard, has repelled all such incursions and has, in fact, sought peace through the giving up pieces of what little land she has.
Today, all Israel wants are the borders drawn after the 1967 war, a war she did not start but a war she won and to be left alone to exist in the world as a Jewish nation.
To understand the dynamics at hand and arrive at a viable solution, we must first break down the entities involved.
In part one of this investigative series, Diane Sori of The Patriot Factor provided crucial insight into the real position of Jordan and Jordan's King. Trust me, we're not done exploring Jordan's role on all of this but, more on that later.