By Craig Andresen – The National Patriot and Right Side Patriots on cprworldwidemedia.net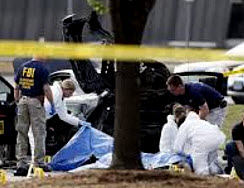 Last Sunday, Garland Texas became the new Paris France and thus, ground zero for the war against freedom of expression.
Two gunmen showed up at the Draw Muhammad event, an event held in the exact same building where, in January, an event promoting political correctness and restrictions on free speech was held.
One police officer was wounded at Sunday's event and the mainstream media, liberal lapdogs that they are, immediately blamed event organizer Pamela Geller for the violence. Nothing could be further from the truth but liberals never assess blame on the perpetrators do they? It's always someone else's fault and therein we find the real issue.
Just a few weeks ago, over at MSNBC, Chris Matthews went off the handle stating that NOBODY should EVER refer to ANYONE as a Nazi but, before the gun smoke cleared in Garland, Matthews called Pamela Geller and her organization, The American Freedom Defense Initiative, a bunch of Nazis and added that Geller had "set a mousetrap for Muslims," and that she had "provoked" the attack.
What Matthews FAILED to mention was that January's "Stand with the Prophet Muhammad" pro Islam event at the exact same Culwell Center venue was what provoked Geller's event. In other words, those standing for American values are disallowed from provoking Islamists but when Islamists provoke Americans…