By Craig Andresen – Right Side Patriots on American Political Radio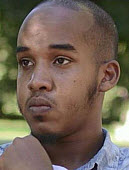 "America, stop interfering with other countries, especially the Muslim Ummah. We are not weak… By Allah, we will not let you sleep unless you give peace to the Muslims. You will not celebrate or enjoy any holiday."
Those words were among the last written by Somali "refugee" Islamic terrorist, 18-year-old Abdul Razak Ali Artan, on his Facebook wall.
He also wrote…"Every single Muslim who disapproves of my actions is a sleeper cell, waiting for a signal. I am warning you Oh America!"
And yet…liberals from the halls of congress, to the media's 4th estate, to twitter just couldn't, for the lives of themselves, find a motive for what that 21st century college student with a 7th century mentality did on the campus of Ohio State University.
Regarding those motivation baffled liberal buffoons…